Airport City
8.4.18
City Building Game – Your Chance to Build Your Dream Airport
Do you love going to the airport? Do you like playing building games? If yes, then this city building game is perfect for you. Airport City: Airline Tycoon is a fun game in which you get the chance to build a dream airport and a bustling city full of eager passengers. Starting off from a tiny town in the middle of nowhere, you have to build a model city and the best airport that the world has ever seen. You will be provided with the necessary infrastructure needed to get an airport up and running. However, you will have to utilize your resources wisely and continue building your city and airport in order to succeed.
Airport City: Airline Tycoon offers a smooth gameplay experience which is enhanced by its stunning graphics. The music and the sound effects in the background are also very realistic and ensure that you get the airport feel while playing the game. This city building game provides lots of different planes for you to add to your fleet. The planes range from small private planes to massive jumbo jets that can fly to any destination in the world. However, before you start flying the planes, you will have to get the basic airport infrastructure in place. This includes hangars, runways, and air traffic control tower. Moreover, you will also need to build power plants to provide the necessary electric power for all the different buildings.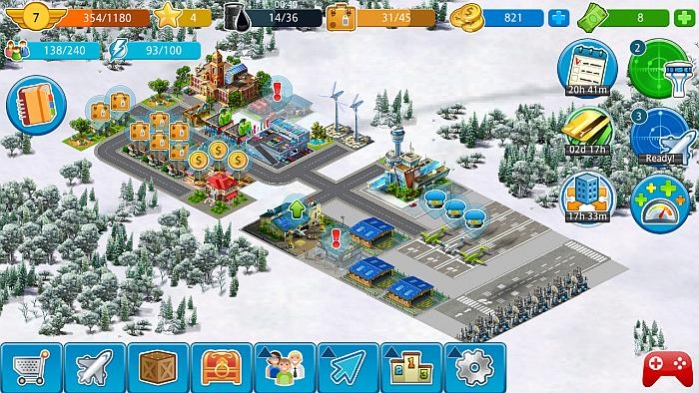 This city building game doesn't only focus on the airport alone. You have to build the city as well since it is going to provide you with the passengers you need. There are many different types of residential and commercial buildings available that you can build to develop your city. The homes will provide the passengers while the commercial buildings produce the money needed to run the airport. You will have to continue upgrading the city hall in order to increase your population cap. As you continue to develop your city and airport, you will have to buy expansions. This will ensure that you do not run out of space for building new homes and runways.
Airport City: Airline Tycoon allows you to fly the planes to various destinations all over the world. Do keep in mind that small planes can't cover a lot of distance so you will have to buy bigger jets in order to fly to distant destinations. Each flight will take some time to complete. You can accelerate it by spending oil or by watching video advertisements. The flights from different destinations will bring back rare artifacts as well. You can complete collections of these artifacts to earn great rewards. You can also allow guest planes to land at your airport too. They can also provide you with rare artifacts for your collections. In this city-building game, you can add neighbors and visit their cities to see how their airports look. You can even help them out as well.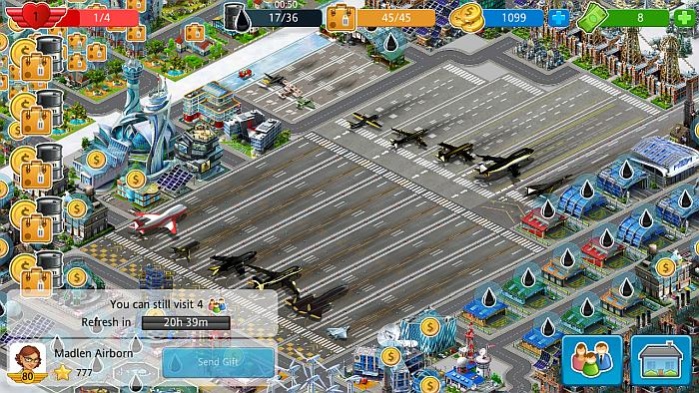 Features
Lots of types of planes to buy
Various airport buildings to construct
Send flights to cities all over the world
Grow your city by building more homes
Variety of residential buildings available
Wide range of commercial buildings to construct
Complete collections of artifacts brought by different flights
Connect the game with Facebook to play with friends
Visit your neighbors and help them out
Form alliances with your friends
Venture out into space after conquering the skies
Conclusion
Airport City: Airline Tycoon is a gaming app which will appeal primarily to people who enjoy playing building games. It provides them the opportunity to transform a middling town into a grand metropolis and build the world's busiest airport. It is definitely a fun city building game which will keep you entertained on long trips.
RELATED PROGRAMS
Our Recommendations
---
---
---
---